THE TALK
THE SPEAKER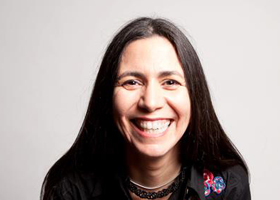 Skawennati is an artist whose many achievements include a 2011 Eiteljorg Contemporary Art Fellowship, several Best New Media awards from imagineNative and being shortlisted for the inaugural National Media Arts Prize last year. Her art addresses history, the future, and change, and has been widely exhibited across North America.
Born in Kahnawake Mohawk Territory, Skawennati graduated with a BFA from Concordia University in Montreal, where she is based. She is Co-Director, with Jason E. Lewis, of Aboriginal Territories in Cyberspace (AbTeC), a research network of artists, academics and technologists investigating, creating and critiquing Indigenous virtual environments.  Please visit www.skawennati.com to see more.
Skawennati est une artiste ayant obtenu plusieurs récompenses, dont l'Eiteljorg Contemporary Art Fellowship en 2011, plus d'un prix de la meilleure œuvre de nouveaux médias au festival imagineNative et elle a aussi été présélectionnée pour le Prix inaugurale des Arts Médiatiques Nationaux l'année dernière. Ses œuvres abordent les notions d'histoire, d'avenir et de changement et ont été largement diffusés en Amérique du Nord.
Née à Kahnawake territoire Mohawk, Skawennati est diplômé en beaux arts de l'Université de Concordia à Montréal, où elle vit et travaille. Elle codirige aux cotés de Jason E. Lewis, Aboriginal Territories in Cyberspace (AbTeC), un réseau de recherche composé d'artistes, d'universitaires et de technologues voué à la création, à l'exploration et à la critique d'environnements virtuels autochtones.