THE TALK
THE SPEAKER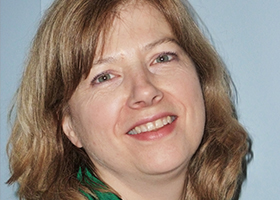 Jennifer Lonergan is the Founder and Executive Director of Artistri Sud, a Canadian charity supporting the empowerment of women in developing countries.  She has worked with over 50 artisans and artisan groups in Latin America, Asia, and Africa.
As a buyer for fair trade and ethical wholesale and retail markets in North America—in particular, for her own boutique, Artistri—and in partnership with international development organizations in the US and Canada, she has helped support artisans' efforts to generate revenue by capitalizing on their strengths to meet the needs of fast-paced marketplace.
Jennifer has a PhD in women's history and fifteen years' experience in education and curriculum development, both critical tools in her efforts to build capacity among artisans to meet market needs while supporting cultural heritage preservation.
Jennifer Lonergan est la Fondatrice et Directrice Générale de l'organisme de bienfaisance, Artistri Sud.  Elle a travaillé auprès de plus de 50 groupes d'artisanes dans 12 pays en développement en Amérique latine, en Asie et en Afrique.
En tant qu'acheteuse pour les marchés de gros et de détail équitables et éthiques en Amérique du Nord (en particulier pour sa propre boutique Artistri) et en partenariat avec des organismes de développement international aux États-Unis et au Canada, elle a aidé à soutenir les efforts d'artisanes pour générer des revenus en exploitant leurs forces et répondre aux besoins d'un marché en constante évolution.
Jennifer est détentrice d'un doctorat en histoire des femmes et possède 15 ans d'expérience en éducation et en développement de programmes, deux outils essentiels au renforcement des capacités chez les artisanes pour qu'elles puissent répondre aux besoins du marché tout en soutenant la préservation de leur héritage culturel.