THE TALK
THE SPEAKER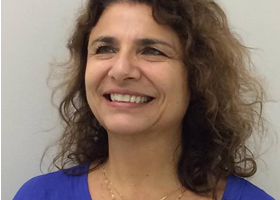 Evelyn Rodinos is a psychologist and workshop/training facilitator at McGill University. During her 25 year career, she has been a university lecturer, supervised Masters and PHd counselling interns and has provided psychotherapeutic interventions to college and university students in both individual and group formats.
In addition to working at Educational institutions, Ms. Rodinos operates a successful private practice and often acts as a Service Provider for Health Canada to help promote Mental Health literacy.
Evelyn Rodinos est psychologue et animatrice d'ateliers/formations à l'Université McGill. Au cours de sa carrière de 25 ans, elle a été enseignante universitaire, a supervisé des projets de stagiaires aux niveaux de la maîtrise et du doctorat en psychologie (conseil) et a animé des sessions psychothérapeutiques individuelles et en groupes aux étudiants de niveaux collégiale et universitaire.
En plus d'oeuvrer dans des établissements d'enseignement, Mme Rodinos a une pratique privée réputée et est appelée par Santé Canada à fournir des services en animation dans le but de promouvoir des connaissances de base en santé mentale.