THE TALK
THE SPEAKER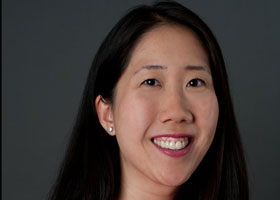 Angela Lee is an educator & entrepreneur who inspires in both the classroom and the investment arena.  As Assistant Dean at Columbia Business School, Angela is a highly rated professor of leadership and innovation.  As Founder and CEO of 37 Angels, she evaluates early stage startups and teaches women how to invest in them.  In all of her work, Angela is known for demystifying complex topics, curating opportunities, and empowering others.
Angela is a sought-after expert on CNBC, Bloomberg TV, and Fox Business Network and is regularly featured in media outlets such as Forbes, Huffington Post, and Fast Company. Entrepreneur Magazine recognized Angela as one of Six Innovative Women to Watch in 2015, and Alley Watch named her as one of 100 NYC Tech Influencers You Need to Know.
Angela's career highlights include:
• Top-rated Adjunct Professor and Assistant Dean at Columbia Business School, teaching leadership, strategy, and entrepreneurship.
• Founder of 37 Angels, an investment network that vets 2000+ early stage startups annually and trains women to invest.
• Consultant at McKinsey & Company, focused on strategy & marketing innovation for Fortune 100 clients and the redesign of their internal leadership development program.
• Founder of a technical consulting firm, career education program for undergraduates, and other educational startups.
Angela holds an MBA from Columbia Business School and a BA in Economics from the University of California at Berkeley.  She serves on the boards of the Fresco Education Fund, Alice App, and the Startup Leadership Program.  When she is not learning or teaching, you will find her hosting dinner and poker parties with her husband in NYC or in the aisles of supermarkets abroad.Professeure et entrepreneure chevronnée, Angela Lee inspire ses étudiants et le secteur de l'investissement. En tant que vice-doyenne de la Columbia Business School, Angela se démarque par son leadership et son innovation. En tant que fondatrice et PDG de 37 Angels, elle a développé une forte capacité à évaluer les startups et à accompagner les femmes afin qu'elles investissent en elles-mêmes. Dans toutes les sphères de son travail, Angela est reconnue pour la vulgarisation de sujets complexes, la création d'opportunités et son engagement auprès des autres.
Angela est une experte convoitée par les chaines telles que CNBC, Bloomberg TV et Fox Business Network. De plus, elle est régulièrement présente dans les médias tels que Forbes, Huffington Post et Fast Company. Entrepreneur Magazine a reconnu Angela comme l'une des six femmes innovantes à suivre en 2015, et Alley Watch l'a nommée comme l'une des 100 NYC Tech Influencers You Need to Know.
Voici les faits saillants de la carrière d'Angela :
• Professeure adjointe reconnue et vice-doyenne de la Columbia Business School, elle enseigne le leadership, la stratégie et l'entrepreneuriat.
• Fondatrice de 37 Angels : À travers ce réseau d'investissement qui effectue la vérification de plus de 2 000 startups chaque année, elle encourage les femmes à entreprendre dans le domaine de l'investissement.
• Consultante chez McKinsey & Company, elle œuvre au niveau de la stratégie marketing et de l'innovation pour des compagnies listées dans le Fortune 100. Elle travaille également à la refonte de leur programme de développement du leadership à l'interne.
• Elle est la fondatrice d'un cabinet de conseils, d'un programme d'éducation sur la carrière pour les étudiants ainsi que d'autres startups dans le domaine de l'éducation.
Angela est titulaire d'un MBA de la Columbia Business School et d'un baccalauréat en économie de l'Université de Californie à Berkeley. Elle siège sur les conseils d'administration de la Fresco Education Fund, Alice App et Startup Leadership Program. Lorsqu'elle n'est pas en train d'enseigner ou de s'instruire, vous la trouverez entourée de ses amis autour d'un bon souper ou en train d'organiser un party de poker avec son mari à New York.