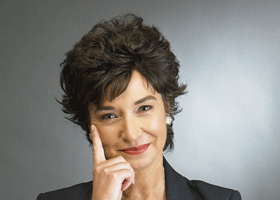 Prior to launching a successful public affairs consulting firm in Toronto in 1994, Pamela enjoyed a career as one of Canada's 'too few' female lobbyists after serving as a Political Advisor in the Ontario government. Recognized by the National Post as a "communications wizard," she also served as a Communications Advisor to Prime Minister Martin.
During a consulting assignment, Pamela was inspired to create a network for female leaders because one did not exist after determining she was not 'the only woman in Canada' who wanted to be part of a network of like-minded women. Drawing on her experience in business, government and politics, she designed WXN for women in the private, public and not-for-profit sectors. This reflected her concern that all too often, leaders in the private sector were unknown to leaders in other sectors, therefore denying them the opportunity to collaborate and learn from one another as women who were often the first to assume leadership roles in their organizations.
Since its founding in 1997, WXN has grown to 17,500 select women across Canada. In 2003, she founded Canada's Most Powerful Women: Top 100 Awards, now Canada's most prestigious Awards for female leaders. In 2008, WXN was launched in Ireland – the first step towards creating an international community of female leaders. In 2012, Pamela was the only resident Canadian named as a charter member of Fast Company's League of Extraordinary Women which recognized 60 women globally including Hillary Clinton and Melinda Gates for their dedication to changing the lives of women and girls.
In 2009, she founded the Canadian Board Diversity Council with a mandate from the federal government to increase the board representation of women, members of visible minority groups, Aboriginal peoples including First Nations, Inuit and Métis and persons with disabilities.
Pamela's commitment to community service is extensive. She is well-versed in corporate governance in the public and not-for-profit sectors having served on 11 public sector and non-profit boards, 11 advisory boards and committees and four nominating/governance committees. She currently serves as a member of the federal government's Advisory Council for Promoting Women on Boards, the Ivey School of Business Entrepreneurship Council and is a Director of The Hincks-Dellcrest Foundation.
Pamela holds an MBA and an HBA from the Richard Ivey School of Business. She taught government relations strategy in the MBA and Executive MBA Programs at the Rotman School of Management at the University of Toronto from 1992-2001.
She lives in Toronto with her husband Norman Inkster and is the mother of two sons Stephen and Samuel.