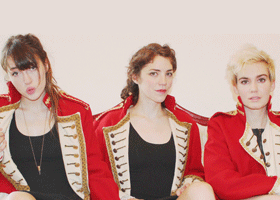 Motel Raphaël is a young Indie-pop band from Montreal, led by Clara Legault, Emily Skahan and Maya Malkin.
In this, their first year as a seven piece unit, they've represented Montreal at a national level in CBC's Searchlight Competition, and have played several different festivals and showcases, including Pop Montreal, Fringe Montreal and Canadian Music Week.
This summer, they played Toronto, Ottawa, Wakefield, New York City and of course, Montreal.
Their harmonies are haunting, their lyrics honest, and they deliver their performance with real sincerity.
They are currently finishing up with the recording of their very first studio album, Cable TV, which was entirely crowd funded by a very successful Indiegogo campaign.
They love this city and are very proud to be part of its rich cultural tapestry.