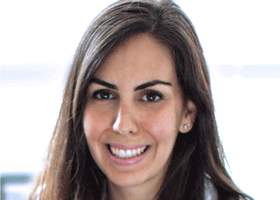 Maya Chivi is a child development specialist and education consultant. She completed her BA in Child Studies at Concordia University where she was awarded the Malone Medal upon graduation for her outstanding contribution to the university's internal community. She completed her MA in Educational Leadership at McGill University. During her graduate studies, Maya was also granted a Policy Fellowship at the McGill Institute for Health and Social Policy. As a Fellow, she conducted research on the Queen Rania Family and Child Center in Jordan, focusing on their efforts to prevent child and youth abuse in marginalized communities.
On a trip to Lebanon in 2011, Maya saw the need to collaborate with community members on the healthy development of children and youth through education and empowerment. She began her ongoing work as a social entrepreneur by developing children's workshops, parenting seminars, teacher trainings, and partners with organizations on program design and evaluation.
Maya has worked with children and youth for over ten years across the Middle East and North America and has volunteered and fundraised with a number of organizations such as UNICEF, The Terry Fox Run, The Weekend to End Breast Cancer, and Ladies Learning Code.
Maya does her work because she believes in children and their potential to positively shape our world as active local and global citizens.